Authentic New Mexico Green Chile Stew
How to make Authentic New Mexico Green Chile Stew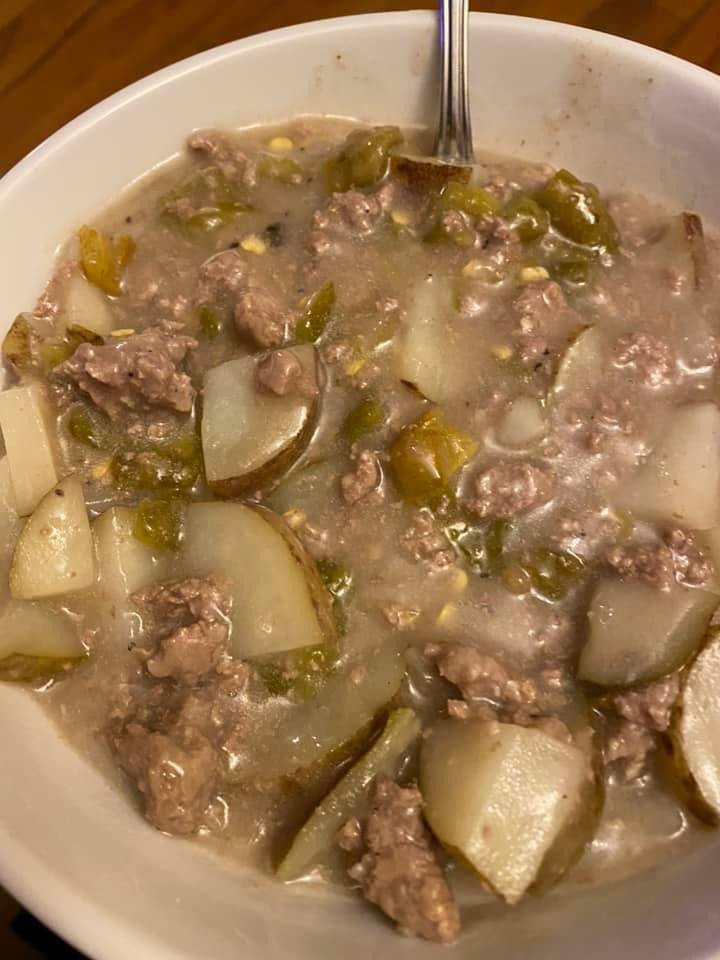 Ingredients:
12 hatch green chilies (if not available anaheim will work too)
2 lbs pork shoulder
2 tablespoons vegetable oil
1⁄2 cup onion, finely chopped
2 minced garlic cloves
1 -2 jalapeno, diced (only necessary if using anaheim chiles)
6 cups chicken broth
6 ounces beer (optional)
1⁄2 teaspoon oregano
1 teaspoon salt
1 teaspoon pepper
3 bay leaves
1⁄2 teaspoon cumin
1 (10 ounce) can diced tomatoes
3 large potatoes, diced 1/2-inch
2 tablespoons butter
2 tablespoons flour
Instructions:
Broil green chiles in the oven turning often to evenly darken skin making sure they don't burn.
Remove from oven and cover with a dish cloth for 10 minutes to steam the skins off.
While the chiles are resting, cube the meat, sprinkle with salt & pepper and brown with onions & garlic in oil in a large pot for 5 minutes.
add jalepeno, broth, half a can of beer, spices.bring to a simmer.
let simmer for 1 hour.
Peel skin from chiles, chop and add to the pot (including the seeds).
Let simmer for 30 minutes then add the tomatoes & potatoes (add a cup of hot water if needed).
Simmer until potatoes are done.
melt butter in a small skillet & add flour, cook for 2 minutes stirring constantly — add to the pot.
Nutrition Information:
Calories: 250 kcal | Total Fat: 13g | Saturated Fat: 4g | Cholesterol: 45mg | Sodium: 900mg | Total Carbohydrates: 18g | Dietary Fiber: 3g | Total Sugars: 3g | Protein: 15g
Frequently Asked Questions:
Can I use a different type of meat instead of pork shoulder?
Yes, you can use other types of meat like beef stew meat or even chicken.
Adjust the cooking time accordingly based on the meat you choose.
Is the beer necessary in the recipe?
No, the beer is optional. It can add flavor to the stew, but you can omit it if you prefer not to use alcohol.
What can I substitute for hatch green chilies?
If hatch green chilies are not available, you can use Anaheim chilies or other mild green chilies.
The flavor might be slightly different, but it will still be delicious.
Can I make this stew vegetarian?
Yes, you can make a vegetarian version by omitting the pork and using vegetable broth instead of chicken broth.
You can also add beans or other vegetables for protein.
Can I adjust the spice level of the stew?
Absolutely, you can control the spiciness by adjusting the amount of jalapeno and green chilies you use.
If you prefer a milder stew, remove the seeds from the chilies and use less jalapeno.
Is the beer necessary in the stew?
No, the beer is optional. It can enhance the flavor of the stew, but if you prefer not to use alcohol, you can omit it without significantly affecting the overall taste.
Can I make this stew in a slow cooker?
Yes, you can adapt this recipe for a slow cooker.
After browning the meat and sautéing the onions and garlic, transfer the ingredients along with the rest of the ingredients (except for the butter and flour) to a slow cooker.
Cook on low for about 6-8 hours or until the meat is tender and the flavors have melded.
Add the butter and flour mixture towards the end to thicken the stew.
Can I use different types of potatoes?
Yes, you can use different varieties of potatoes, but make sure they are suitable for stewing.
Russet or Yukon Gold potatoes are good alternatives to the suggested large potatoes.
Can I freeze the leftovers of this stew?
Absolutely, this stew can be frozen for later consumption.
Allow it to cool before transferring to airtight containers or freezer-safe bags.
When reheating, gently thaw and reheat on the stovetop, stirring occasionally.