How to make Ceviche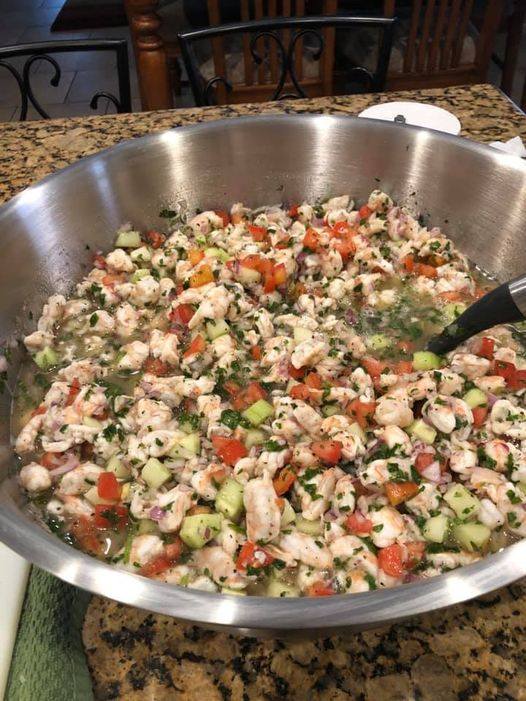 Ingredients:
About 80 shrimp
2 cucumbers
4 tomatoes
1 onion
2 cilantro bundles
4 avocados
6 limes
Tostadas
Tapatío
Instructions:
Clean up the shrimp cut it up in very small pieces & put them in a big bowl
Cut up the limes & squeeze them on the shrimp make sure the shrimp is covered in the lime juice cover it up & let it cook… (the lime juice is what cooks the shrimp takes about 1 hour or so until you see the shrimp turn pinkish is when it's ready!)
Cut up all the ingredients the same way & put them in the bowl with the shrimp add some salt to taste.. & mixed it all up!
I've heard you can add mayo to your tostada before putting the ceviche on it but I've never done that i like it just like that & some tapatío on top.
Nutrition Information:
YIELD: 10 SERVING SIZE: 1
Amount Per Serving: CALORIES: 240 | TOTAL FAT: 12g | SATURATED FAT: 2g | MONOUNSATURATED FAT: 7g | POLYUNSATURATED FAT: 1.5g | CHOLESTEROL: 120mg | SODIUM: 300mg | CARBOHYDRATES: 15g | FIBER: 7g | SUGAR: 5g | PROTEIN: 20g | POTASSIUM: 800mg
Frequently Asked Questions:
Can I use other types of seafood in this ceviche recipe?
Yes, you can substitute or add other types of seafood like fish, scallops, or squid. Make sure to use fresh, high-quality seafood and cut it into small, even pieces to ensure even cooking with the lime juice.
What type of shrimp should I use for ceviche?
Use fresh, raw, deveined shrimp for the best results. Make sure the shrimp is properly cleaned and stored at a safe temperature to ensure food safety.
You can also use frozen shrimp, but make sure to thaw it properly before using it in the recipe.
How long should the shrimp be marinated in the lime juice?
The shrimp should be marinated in lime juice for about 1 hour, or until it turns pinkish and opaque.
The lime juice's acidity cooks the shrimp, so it's important to ensure they are fully cooked before consuming.
How can I tell when the shrimp is fully "cooked" by the lime juice?
The shrimp will change from a translucent gray color to a pinkish, opaque color when it's fully "cooked" by the lime juice.
Make sure the shrimp is completely covered by the lime juice and allow it to marinate for about 1 hour or until the color change is evident.
How should I serve ceviche?
Ceviche is typically served chilled on a tostada or with tortilla chips for scooping. You can also serve it in a lettuce cup, with crackers, or as a salad topping.
Feel free to add your favorite hot sauce, such as Tapatío, for added flavor and heat.
Can I store leftover ceviche?
Leftover ceviche can be stored in an airtight container in the refrigerator for up to 24 hours.
However, it's best to consume ceviche within a few hours of preparation, as the shrimp can become overly acidic and break down in texture if left in the lime juice for too long.
Can I make a vegetarian or vegan version of ceviche?
Yes, you can make a vegetarian or vegan ceviche by substituting the shrimp with ingredients like mushrooms, hearts of palm, or cooked cauliflower.
Marinate the chosen ingredients in lime juice and mix with the other vegetables and seasonings as you would with a traditional ceviche.
Keep in mind that the marinating time may vary depending on the chosen substitute.