How to make Cornbread Taco Casserole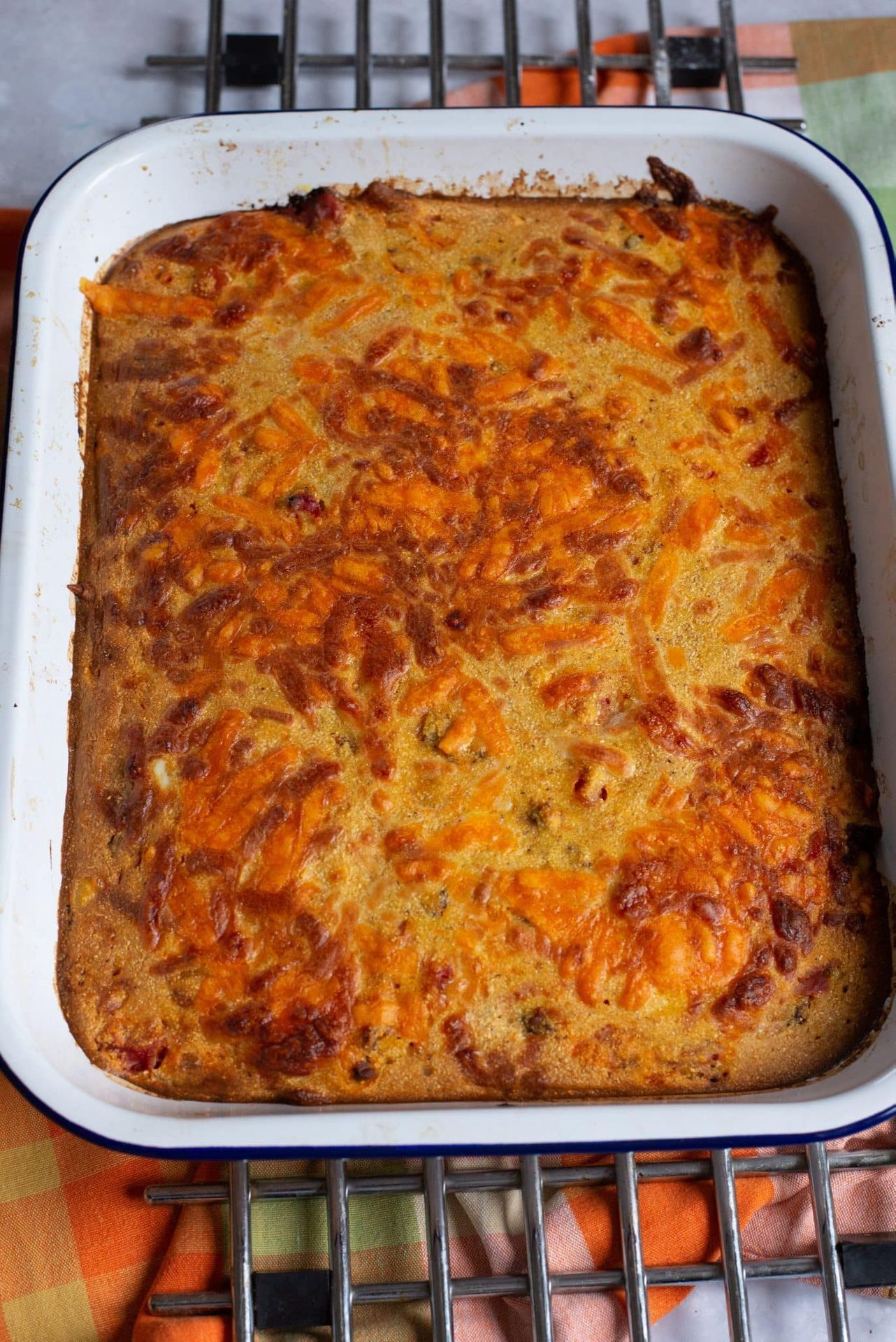 Ingredients
1 pound lean ground beef
1 tbsp olive oil
½ red bell pepper, diced
1 small onion diced
1 tsp garlic, minced
1 tsp chili powder
¼ tsp cayenne pepper
Salt and pepper to taste
1 cup salsa
½ cup frozen corn
1 cup or more of Mexican shredded cheese
Corn Bread:
¾ tsp salt
1 cup cornmeal, yellow or white
1 cup milk
½ tsp baking soda
2 eggs, beaten well
Instructions
Preheat the oven to 425*
Heat the olive oil in the skillet.
Add in the bell pepper and the onion, saute until softened
Crumble and add in the ground beef and the spices
Cook until the ground beef is browned, about 7 minutes
Add in the corn, stirring to heat through
Drain the fat from the pan
Add approximately ¼ of the shredded cheese and mix well
Pour the meat into a 9×13 baking dish
Cover with a layer of the salsa
Combine the salt, baking soda and cornmeal in a bowl
Add milk and eggs and stir until it is well blended
Pour the cornmeal mix on the top of the salsa
Top with the remaining cheese
Bake until the top is browned, or about 30 minutes
Enjoy!
Frequently Asked Questions:
How do I make the cornbread topping for the casserole?
To make the cornbread topping, you'll need cornmeal, flour, baking powder, salt, sugar, eggs, milk, and oil. Mix the dry ingredients together in one bowl, and the wet ingredients in another bowl. Then, add the wet ingredients to the dry ingredients and mix until just combined.
Can I use a boxed cornbread mix for the topping?
Yes, you can use a boxed cornbread mix if you prefer. Just follow the instructions on the box and adjust the amounts as necessary for the size of your casserole dish.
How do I make the taco filling for the casserole?
To make the taco filling, you'll need ground beef, onion, garlic, taco seasoning, canned diced tomatoes, canned black beans, and canned corn. Brown the beef with the onion and garlic, then add the seasoning, tomatoes, beans, and corn.
Can I make this casserole ahead of time?
Yes, you can make this casserole ahead of time and refrigerate it until ready to bake. Just be sure to bring it to room temperature before baking.
How long should I bake the casserole?
Bake the casserole in a preheated 400°F oven for 20-25 minutes, or until the cornbread topping is golden brown and the filling is hot and bubbly.