Homemade Chicken Enchiladas
How to make Homemade Chicken Enchiladas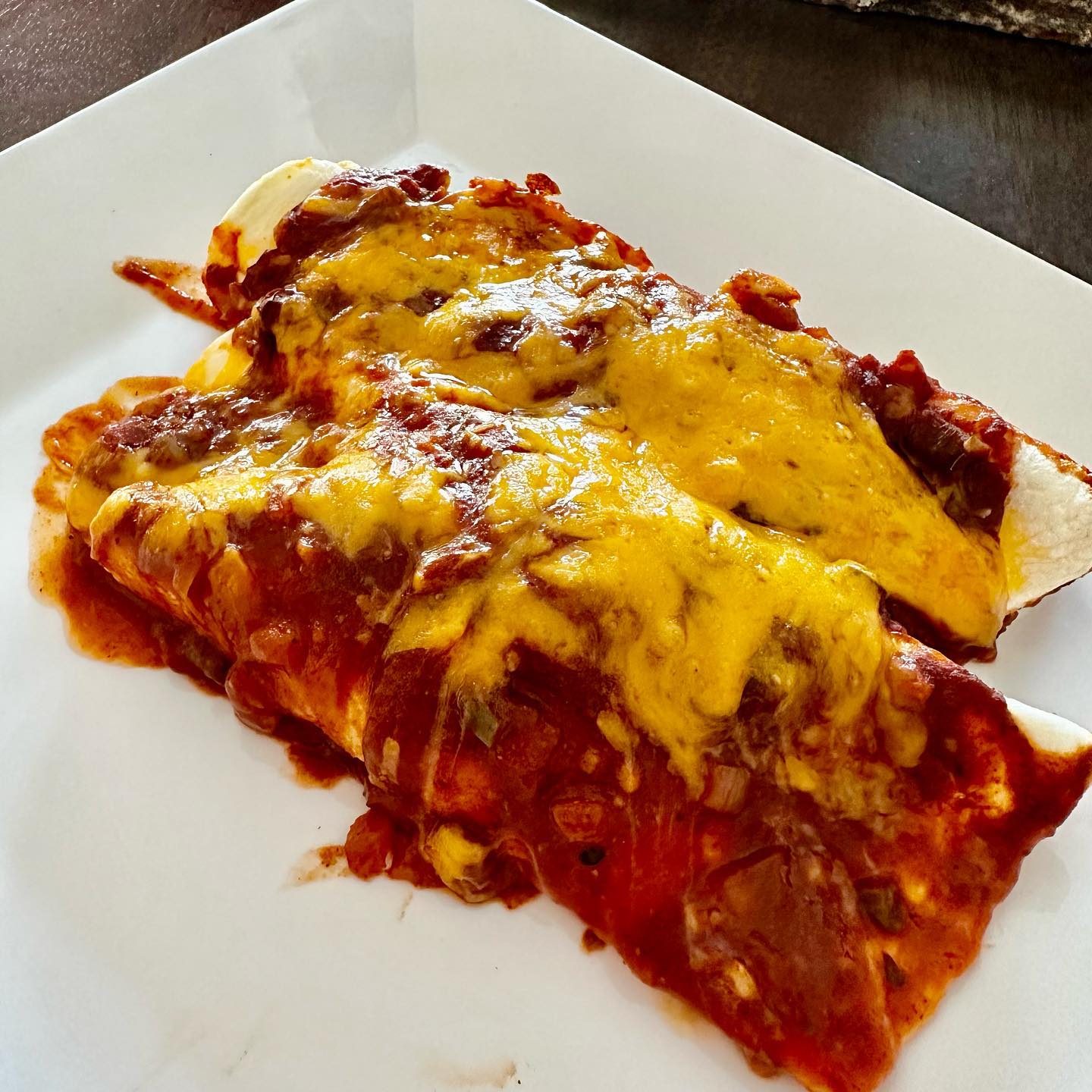 Ingredients:
1 cup low-sodium organic chicken broth
1 tsp. unflavored gelatin (preferably from grass-fed cows)
1 Tbsp. olive oil
1 cup chopped onion (approx. 11⁄3 medium onions)
½ medium jalapeño, seeds and veins removed, chopped (optional)
4 cloves garlic, finely chopped
½ tsp. sea salt (or Himalayan salt)
2 Tbsp. of taco seasoning or make your own.
1 cup all-natural tomato puree
2 Tbsp. cornstarch (preferably GMO-free)
+ 2 Tbsp. water (combine to make a slurry)
1½ cups cooked shredded chicken breast
4 (6-inch) corn tortillas (I used egg wraps)
½ cup shredded cheddar-jack cheese
Instructions:
1. Sprinkle broth with gelatin. Set aside.
2. Heat oil in a medium nonstick skillet over medium-high heat until fragrant.
3. Add onion and jalapeño (if desired); cook, stirring frequently, for 3 to 5 minutes, or until onion is translucent.
4. Add garlic; cook, stirring frequently, for 1 minute.
5. Add salt, taco seasoning, tomato puree, and broth. Bring to a boil, stirring frequently. Reduce heat to medium-low; gently boil, stirring occasionally, for 5 minutes.
6. Add cornstarch slurry; cook, stirring frequently, for 1 minute, or until thickened.
7. Combine 2⁄3 cup sauce with chicken in a medium bowl; mix well. Set aside.
8. Preheat oven to 425º F.
9. Place 2⁄3 cup sauce in the bottom of 9 x 9-inch casserole pan. Set aside.
10. Heat medium skillet over medium-high heat.
11. Cook tortillas for 10 seconds on each side. Set aside.
12. Place ½ Red container of chicken and sauce mixture (1½ oz.) on each tortilla; roll.
13. Place each rolled tortilla, seam-side down, in prepared pan. Top with remaining sauce. Sprinkle each tortilla with ½ blue container cheddar-jack cheese (approx. 2 Tbsp.).
14. Bake for 10 to 12 minutes, or until cheese is melted and sauce is bubbling.
Enjoy!