How to make Savory Hand Pies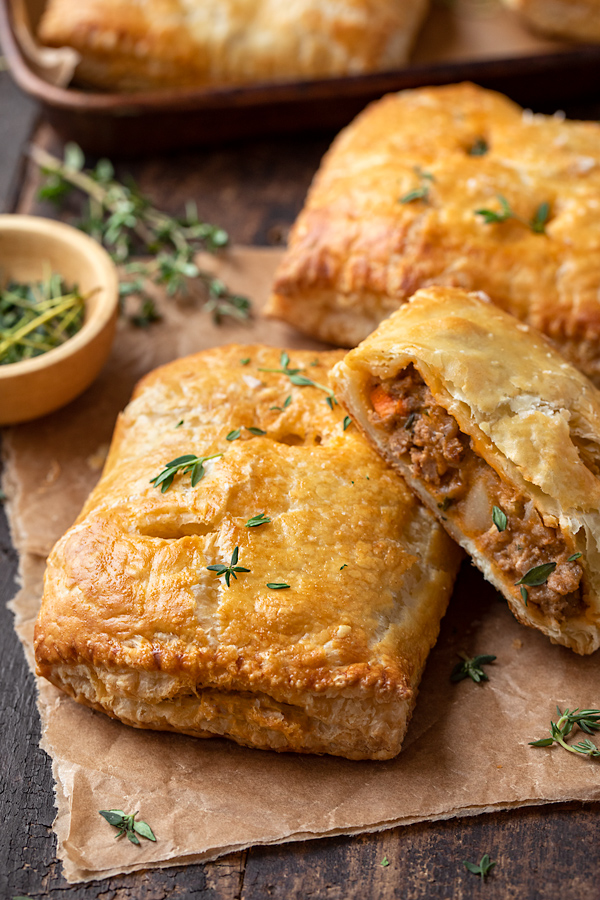 Ingredients:
1 tablespoon olive oil
1 tablespoon butter
1 onion, finely diced
1 carrot, peeled and finely diced
1 rib celery, finely diced
Salt
Black pepper
4 cloves garlic, pressed through garlic press
1 pound ground beef (85/15 ratio lean to fat)
1 ½ teaspoons Italian seasoning
½ teaspoon white pepper
1 tablespoon tomato paste
2 tablespoons Worcestershire sauce
3 level tablespoons all-purpose flour
1 ¼ cups beef stock or broth
1 medium russet potato, peeled and diced into ¼ -½ inch cubes
2 teaspoons fresh thyme leaves, plus extra for garnish
1 tablespoon finely chopped parsley
¼ cup green peas
2 (17.3 ounce) packages puff pastry sheets, frozen
1 egg, whisked for egg wash
Flaky salt, optional garnish
Instructions:
Begin by gathering and prepping all of your ingredients (except for the puff pastry sheets—keep those frozen) according to the ingredients list above.
Place a large, deep skillet or Dutch oven oven medium-high heat, and add the butter and the olive oil.
Once the butter is melted, add in the onion, carrot, celery, plus a couple of good pinches of salt and pepper, and saute the veggies for a few minutes until just softened.
Add in the garlic, and once aromatic, add in the ground beef along with the Italian seasoning, the white pepper plus a couple more pinches of salt and pepper, and use your spoon or spatula to crumble the beef into a fine consistency, cooking it for a few minutes until no longer pink.
Next, add in the tomato paste along with the Worcestershire sauce and stir that into the beef mixture, then sprinkle in the flour and stir that in to blend well.
Add in the beef stock or broth, followed by the diced potato, and stir to combine.
Cover the pan and allow the filling to gently simmer just until the potatoes are tender and the sauce thickened, roughly 25-35 minutes.
To finish the filling, add the thyme leaves, the chopped parsley and the peas, and stir to combine.
Check to see if any additional salt or pepper is needed, and allow the beef filling to completely cool.
Once your filling is nearly cooled, take your puff pastry sheets out of the freezer (you should have a total of 4 sheets), and allow them to thaw at room temp, roughly 40 to 45 minutes (if the pastry sheets thaw before your filling has cooled, place them into the fridge to keep cold.)
When the puff pastry sheets have thawed, place one sheet at a time in front of you on a work surface.
Roll the puff pastry sheet out to a size that is 10 by 10 inches, and cut it into 4, 5 inch squares.
Place the squares onto a wax or parchment paper-lined sheet tray to hold while you repeat the process with all of the puff pastry sheets, placing more parchment paper or wax paper between layers of squares as needed to help prevent sticking.
Once all of your puff pastry sheets are rolled and cut into 5" squares (you should end up with 16 squares in total), then place about 4 squares at a time in front of you.
Add about ½ cup of the beef filling to the center of each square, forming it so that it is a slightly rectangular shaped mound, leaving some border to allow for sealing.
Wet the edges of the filled square with a touch of water, and place another puff pastry square over top, covering the filling as if you were making a pie.
Press the edges together (you can use a fork for this), then trim any excess edge to create a smaller "package" or rectangular parcel.
Place onto a large baking sheet lined with parchment paper (or use two baking sheets, if needed), and repeat the process by assembling the rest of the hand pies. (You will have a total of 8 hand pies once assembled.)
Once assembled, cut 2 to 3 small slits or "vents" into the top of each hand pie, to allow steam to escape while they bake. Then, place the hand pies into the freezer for 15-20 minutes to chill.
Preheat your oven to 400°.
Once chilled, brush some egg wash over each savory hand pie, sprinkle with a small touch of flaky salt, if using, and bake them for 24 to 26 minutes, or until a deep, golden brown.
Allow the hand pies to cool for 10 minutes on a wire rack before eating, as the filling will be very hot.
Tips & Tidbits for my Savory Hand Pies recipe:
Ground beef, or your favorite ground meat: I'm going for a classic beef hand pie here, but feel free to substitute your preferred protein. Ground lamb, pork, turkey, chicken, or even sausage can work well here. You can even make these vegetarian by using a meatless "ground beef" crumbles to create that texture without the meat.
Russet potatoes for a bit of added starch: Diced russet potatoes are great in this filling, as they add a bit of natural starch which aids in thickening the filling and sauce. When you dice them into small, ½ inch cubes, the potatoes become tender fairly quickly, in about 25 to 35 minutes.
Prepare ahead for convenience: To make the process quicker and easier the day you'd like to serve these hand pies, you can prepare the filling a day or two ahead and keep it in the fridge. Then, just spoon the cold filling into your thawed, rolled, and cut puff pastry squares, seal, chill, egg wash, and bake!
Tasty sides to serve alongside your savory hand pies: If you'd like to keep things light and simple, then a green salad with spicy greens is a terrific accompaniment to these hand pies. But for a more comforting and hearty side, opt for these creamy mashed potatoes—they're so good!