Super Easy Chicken Tortas
How to make Super Easy Chicken Tortas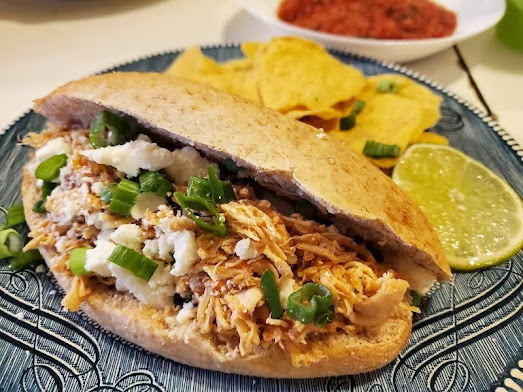 Ingredients:
2 lb boneless, skinless chicken breast
2 c quality salsa
1 tsp dried oregano
1/2 tsp garlic powder
1/2 fresh lime
6 bolillo rolls or hoagie buns
queso fresco cheese, crumbled
chopped fresh cilantro
sliced green onions
1 avocado, thinly sliced
leaf lettuce
thinly sliced tomatoes
Instructions:
Place Chicken in a slow cooker
Add salsa, oregano and garlic powder to chicken and give it a stir.
Cook on low for 6-8 hours or on high for 3-4 hours.
Remove chicken and shred. Stir back in with salsa.
Squeeze fresh lime juice into the chicken mixture and stir.
Line rolls with leaf lettuce, tomato and avocado slices and divide meat between rolls.
Sprinkle with queso fresco and sliced green onions, fresh cilantro.