Spanish Rice Beef And Cheese Enchiladas
How to make Spanish Rice Beef And Cheese Enchiladas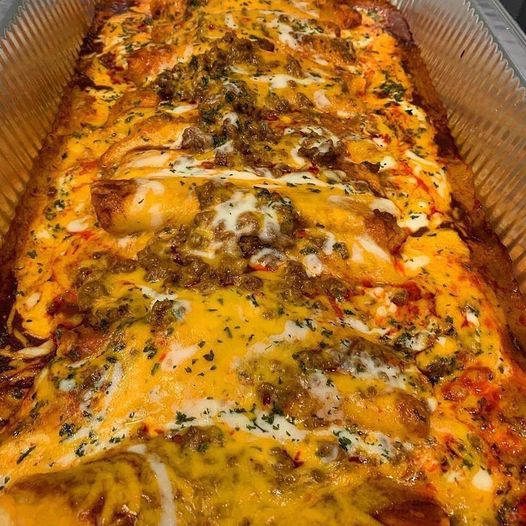 Ingredients For Spanish Rice Beef And Cheese Enchiladas
1 lb ground beef
1/2 lg onion
4oz mild green chilies-undrained
8oz tomato sauce
3 tsp chili powder
3 Tbsp tomato paste
14.5 oz. diced tomato undrained
2 dash cayenne pepper
1 c white rice
2 c water or chicken broth
10 soft flour tortillas
2-1/2 c mild sharp shredded cheee divided
24 oz. can of enchilada sauce
How To Make Spanish Rice Beef And Cheese Enchiladas
In a skillet, brown Ground Beef. Drain off fat. Salt and pepper to taste. Add onion. Stir until onion is translucent. Transfer to a Bowl, and set aside.
Using the same skillet On med/High heat, pour 2 T oil in Skillet. Brown Rice in oil on med/ high heat. Once browned, lower heat. Add in Tomato paste, sauce,and diced tomatoes.
Also, add in chili powder and cayenne and mild green chilies. Stir to combined. Add back in Meat. Stir. Add in 2 c. water. Simmer on low until rice is tender.
place about 1/2 c. enchilada sauce on the bottom of a 13×9 casserole dish. Place meaty spicy Spanish rice in each tortilla then sprinkle a bit of cheese, and place seem side down. My 13x 9 dish holds 8 tortillas.
Pour sauce evenly over top and bake at 350 for 25 min. or until hot and bubbly.