Beef Empanadas With Avocado Salsa
How to make Beef Empanadas With Avocado Salsa.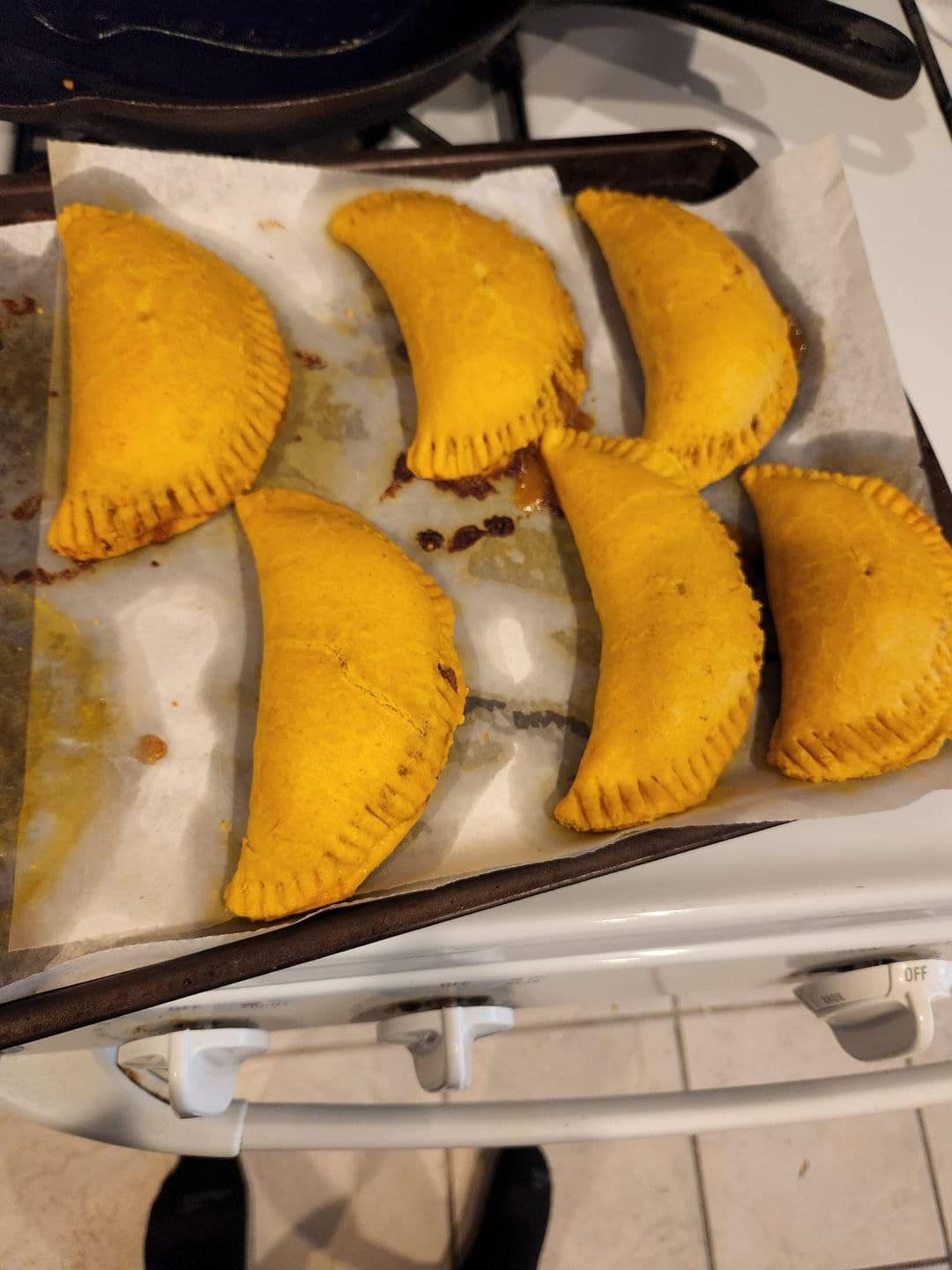 Ingredients:
DOUGH:
• 2 1/3 cup of all-purpose flour
• 1 teaspoon salt
• 1/2 teaspoon baking powder
• 1 stick of very cold unsalted butter (1/2 cup), diced into 1/2 inch cubes
• 1 egg
• 1/4 cup of ice water
• 1 egg whisked to brush the empanadas for baking
FILLING:
• 1 teaspoon of vegetable oil
• 3/4 pound of ground beef
• 1 teaspoon of fresh thyme
• 1/2 teaspoon of fresh oregano
• 1/2 teaspoon of salt
• 1/2 teaspoon of cumin
• 1/4 teaspoon of ground black pepper
• 1/2 cup small dice (brunoise) sweet potato
• 1/2 cup small dice white onion
1 BAG SOAKED CORN HUSKS
• Soak corn husks in warm water for an hour before using, rinse well with running water to take off any dust or corn husk fibers. To keep corn husks pliable and easy to work with, keep in water while filling tamales. Place a handful of wet corn husks in a colander to drain before using.
Preparations:
PREPARE THE DOUGH:
1. Pulse the flour, salt and baking powder in a food processor (or sift into a bowl).
2. Add the butter and pulse until the butter and flour are the texture of coarsely ground cornmeal (or use a pastry cutter or your fingers to cut the butter into the flour).
3. Whisk together the water and egg. With the processor running, slowly stream in the wet mixture until the dough comes together.
4. Turn out the dough onto a floured surface and knead a few times just until the dough comes together. Flatten into a round disk and wrap with plastic wrap. Put it in the fridge to rest while you make the filling.
5. Heat the vegetable oil in a large frying pan over medium heat and sauté the bison meat with the thyme and oregano until just cooked through (the meat is very lean, so be careful to not overcook it). Set aside in a bowl.
6. Sauté the onion and sweet potato for five minutes and add to the meat. Salt and pepper to taste. Heat the oven to 350° F
Ingredients:
CREAMY AVOCADO SALSA
ABOUT 3 CUPS:
• 6 tomatillos roughly chopped
• 1 avocado seeded, peeled and roughly chopped
• 1-2 limes juiced
• 1/3 cup fresh cilantro
• 1/4 cup white onion
• 1/4 of a Jalapeno (1 tablespoon) or to taste
• 1/4 cup water
• kosher salt to taste
ASSEMBLE THE EMPANADAS:
1. Take out the dough and cut into 12 even pieces.
2. Take each piece and roll out to a 5-6 inch circle, about
1/8 inch thick.
2. Fill with 2 and a half tablespoons of filling and fold in half,
sealing by using the tines of a fork to crimp the edges.
3. Put on a baking sheet lined with parchment paper (or
spray with cooking spray).
4. Whisk one egg and brush on the empanadas.
5. Bake for 15-20 minutes in the oven or until golden brown.
PREPARE CREAMY AVOCADO SALSA:
Add all of the ingredients to a blender and mix until well blended. Season to taste.
Refrigerate for 3-5 days