How to make Caramel Cake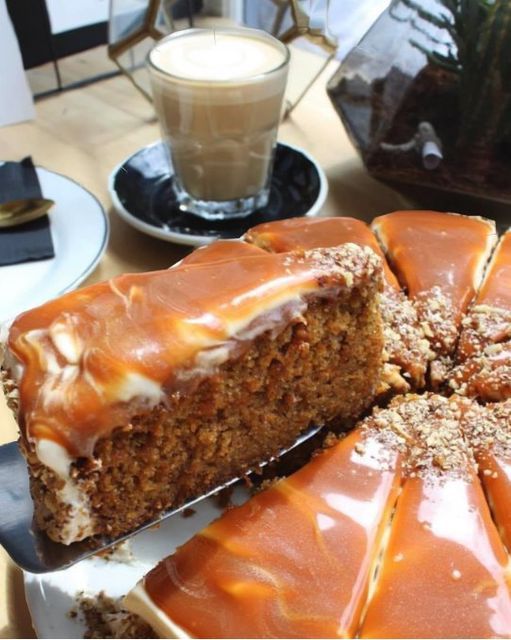 Ingredients
Cake
2 cups all purpose flour, plus 2 tbsp
2 cups white granulated sugar
¼ tsp salt
1 cup of water
2 sticks unsalted butter
½ cup Buttermilk
2 eggs
1 tsp baking soda
1 tsp vanilla
Frosting
3 cups granulated sugar
1 cup heavy cream
1 stick butter
2 tsp vanilla
Pinch of salt
Instructions
Preheat the oven to 350* and butter and flour two round 9 inch cake pans
Sift the flour and salt into a large bowl
Add the sugar, whisk until blended
Combine the water and butter in a saucepan
Add the soda, buttermilk, vanilla and eggs until it is well blended
Pour the butter and water over the flour mix when it boils
Stir until smooth
Pour evenly into the two prepared cake pans.
Bake for 20 to 25 minutes, test with a toothpick after 15 minutes
Let cool for 15 minutes, then turn out and place on parchment paper on racks to continue cooling
Caramel Frosting
You will need two saucepans for this
In a large saucepan, put 2 cups of sugar, butter, cream and a pinch of salt
Cook on medium until it is almost to a boil
The other saucepan will have the syrup you will need to add
In a saucepan put in ½ cup of sugar, you will not stir this sugar.
You will shake the pan once in a while to move the sugar around. This sugar syrup is what you will pour into your other saucepan
Once you pour the syrup in continue to cook on medium to medium high until it reaches a boiling stage, the softball stage of 232* on a candy thermometer.
Remove the pan from the heat and stir in the vanilla
Allow to cool for 15 minutes
Using a hand mixer, beat until it becomes a frosting consistency.
If it becomes too thick, add a little cream at a time until you have the consistency you want.
Enjoy!
Nutrition Information:
SERVING SIZE: 1
Amount Per Serving: CALORIES: 180 | TOTAL FAT: 22g | SATURATED FAT: 12g | UNSATURATED FAT: 10g | CHOLESTEROL: 160mg | SODIUM: 18mg | CARBOHYDRATES: 140g | SUGAR: 14g | PROTEIN: 12g