How to make Crescent Cheese Danishes
Who doesn't love the smell of fresh-baked Danish in the morning?
This delectable treat is easy to make with our crescent cheese Danishes recipe.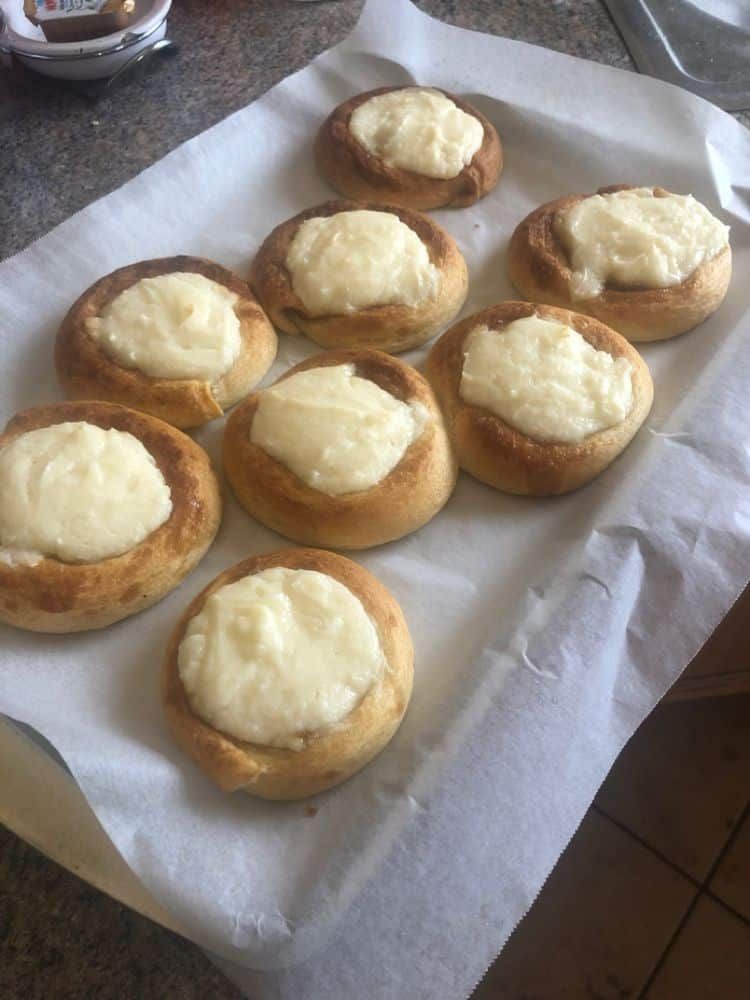 Ingredients
1 Medium PKG. of softened Philly cream-cheese.
Two crescent roll tubes.
1/2 C. of regular white sugar.
1/4 C. of light brown sugar.
2 TBSP. of melted butter.
1 TSP. of lemon juice.
1 TSP. of pure vanilla extract.
For The Glaze
2/3 C. of powdered sugar.
4 TSP. of milk.
1 TSP. of pure vanilla extract.
Instructions:
I set the temperature of my oven to 350℉.
I used a blender to mix the cream cheese, lemon juice, pure vanilla extract, and the white sugar in a medium bowl until well mixed.
I opened the tubes of the crescent rolls. To slice through them, I used a sharp knife and slice them.
I get the slices thick.
On a parchment-lined baking sheet, I layered each slice. To make a little wall around the outside, I used my fingers or a little measuring cup.
I took the melted butter and add 1/4 cup of light brown sugar to the mixture with a whisk. I brush the blend over each Danish mixture. Even percentages of the filling in each of the Danish dollops.
I cooked for 15 minutes at 350 degrees Fahrenheit, when the color is changed to a golden brown, I removed it from the oven.
I let it cool, then I added a touch of glaze.
To make the glaze: combine all three ingredients in a small bowl and stir until soft, then drizzle over every warm Danish.
Nutrition Information:
YIELDS: 12 | SERVING SIZE: 1
Calories: 230 kcal | Total Fat: 14g | Saturated Fat: 7g | Cholesterol: 25mg | Sodium: 270mg | Total Carbohydrates: 24g | Dietary Fiber: 0.5g | Sugars: 17g | Protein: 2g
Frequently Asked Questions:
Can I use other types of cream cheese?
Yes, you can experiment with different flavors of cream cheese, such as strawberry or chocolate, to add variety to your danishes. Keep in mind that the flavor will change accordingly.
Can I substitute crescent roll dough with puff pastry?
Yes, you can use puff pastry instead of crescent roll dough for a slightly different texture.
Puff pastry can create a flakier and more buttery pastry for your danishes.
Can I make these danishes ahead of time?
Yes, you can prepare the cream cheese filling and refrigerate it.
Assemble and bake the danishes when you're ready to serve.
The glaze can also be prepared in advance and drizzled over the danishes just before serving.
How can I customize the glaze?
Feel free to customize the glaze by adding flavors like lemon zest or almond extract for extra depth.
You can also adjust the consistency by adding more or less milk, depending on your preference.
Can I add fruit to the filling?
Absolutely! You can add fruit like berries or diced peaches to the cream cheese mixture for a fruity twist.
Just make sure the fruit is well-drained to avoid making the filling too runny.
Can I use store-bought crescent roll dough?
Yes, you can use store-bought crescent roll dough for convenience.
If you prefer, you can also make your own crescent roll dough from scratch.
Can I omit the lemon juice from the cream cheese mixture?
Yes, you can omit the lemon juice if you prefer a purely vanilla-flavored cream cheese filling.
The lemon juice adds a hint of tanginess and brightness to the mixture.
Can I add different toppings to the danishes?
Absolutely! You can get creative with the toppings.
Consider adding fruit like berries or sliced almonds on top of the cream cheese before baking for extra flavor and texture.
Can I make the glaze thinner or thicker?
Yes, you can adjust the consistency of the glaze by adding more milk for a thinner drizzle or more powdered sugar for a thicker glaze.
Add the liquid (milk) or dry ingredient (powdered sugar) gradually to achieve your desired consistency.