Million Dollar Baked Ziti
How to make Million Dollar Baked Ziti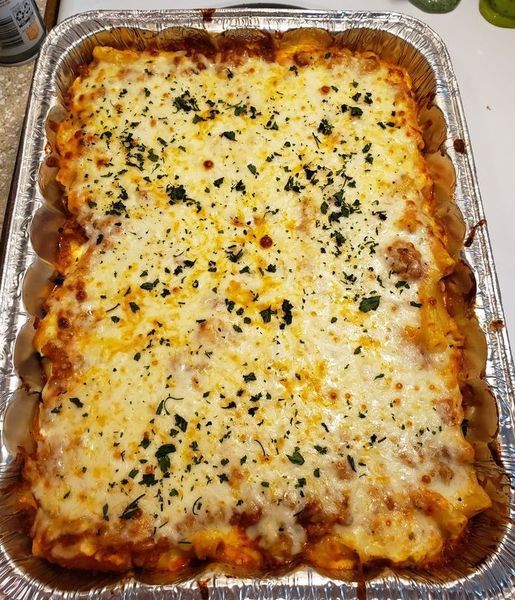 Ingredients:
8 oz. Cream cheese
1 lb. Ziti noodles
16 oz. Cottage cheese
1 lb. Ground Italian sausage
½ C. Sour cream
4 tsp. Minced garlic
2 Large eggs
2 tsp. Oregano
1 ½ C. Parmesan cheese grated
1 tsp. Basil
2 C. Mozzarella cheese cubed
28 oz. Tomato sauce
Fresh chopped basil for garnish
14.5 oz. Can of diced tomatoes
½ C. Fresh basil chopped
Salt and pepper to taste
1 tsp. Sugar
Instructions:
Boil the ziti in a pot of water on the stove until al dente and drain well.
Heat the oven to 375 degrees.
Saute the Italian sausage in a skillet over medium high heat until completely browned. Drain the excess fat.
Stir in the garlic, oregano, basil and salt and pepper to taste. Saute for 1 minute.
Reduce the heat to medium, and add in the diced tomatoes and tomato sauce. Simmer for 10-15 minutes.
Stir in the sugar and chopped basil, and remove the skillet from the heat.
In a large bowl, blend together the cream cheese, cottage cheese, sour cream, 1 cup of the
Parmesan cheese and 1 cup of the mozzarella cheese.
Add the noodles and 1 cup of the meat sauce to the cottage cheese mixture and stir to combine well.
Spread the mixture into a well greased 9×13 baking dish.
Layer the remaining sauce on top, and then sprinkle with the rest of the Parmesan and mozzarella.
Cover with tin foil and bake for 25 minutes. Uncover, and cook for another 25 minutes.
Let cool for 5-10 minutes before serving garnished with fresh chopped basil.