How to make Tex-Mex Taco Pizza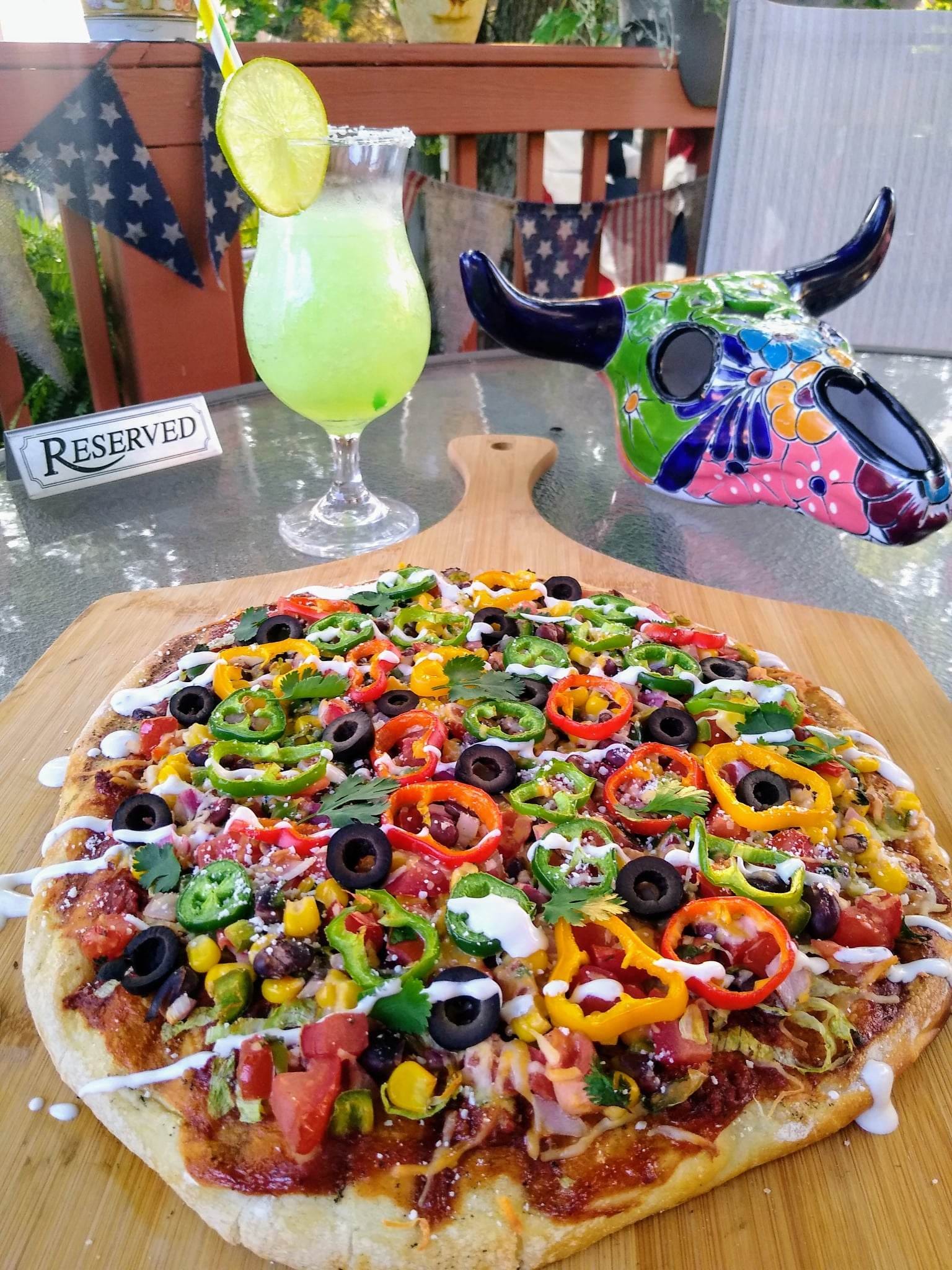 Ingredients
For the Pizza Dough:
1½ cups warm water
1 tsp sugar
2 tsp instant yeast
3 cups flour (I used 00-flour)
1 tsp sea salt
2 tbsp olive oil
Pizza Sauce:
1 cup Taco sauce
2 tblsp jalapeño ketchup
½ tsp sea salt
1 tsp extra virgin olive oil
pinch of sugar (optional)
½ tsp garlic powder
1 tsp oregano
1 tsp taco seasoning
For the Cowboy Caviar:
2 Roma tomatoes seeds removed, diced
1 ripe avocados diced
⅓ cup red onion diced
15 oz black beans rinsed and drained
1 cup frozen sweet corn thawed
1 bell pepper diced (I used half a green and half a red, but color doesn't matter)
1 jalapeño pepper, seeded and diced into very small pieces
⅓ cup Cilantro finely chopped
Instructions
For the Cowboy Caviar:
Mix black beans, diced tomatoes, corn, onion, bell pepper, and jalapeño peppers together in a large bowl. Season with garlic salt, then add cilantro. Mix until well blended.
Refrigerate until flavors have melded, at least 20 minutes or up to 3 days, before serving.
For the Cilantro Lime Cream Sauce:
1 cup Mexican crema or sour cream
1/2 bunch cilantro finely chopped
1/2 lime juiced
1 tsp garlic powder
salt to taste
pepper to taste
Instructions
Combine sour cream, cilantro, lime juice, garlic powder, salt and pepper in a small mixing bowl.
Stir well to combine, cover with plastic wrap and refrigerate until ready to serve.
For the Toppings:
Chorizo sausage
Shredded cheese
Black olives
Jalapeño
Sweet peppers
Shredded lettuce
Cotija cheese
Cilantro
Instructions
For the pizza dough. Whisk the yeast and sugar into warm water and allow to stand for 5 minutes until frothy.
In the bowl of a stand mixer fitted with a dough hook, combine the flour and salt. With the mixer running, pour in the yeast mixture. Add the olive oil then allow to knead for a few minutes until the dough is soft, smooth and only slightly tacky. If the dough is very sticky, add a little bit of flour and knead in.
Transfer the dough to an oiled bowl, cover with plastic and allow to rise for at least 1 hour. I usually make the dough a few hours before cooking.
Once risen, divide the dough into individual balls. Place on a floured board and cover with a dish cloth and allow to rise for another 30 minutes while you prepare the toppings.
To make the sauce, in a small mixing bowl combine Taco sauce, jalapeño ketchup, olive oil, sugar (if using), garlic powder, oregano, and taco seasoning. Season with salt (and your chosen additions if any). Stir till well blended and refrigerate until ready to use.
Meanwhile, preheat the grill to its hottest setting. I like to have a cooler zone to move the pizza to should it be needed. Brush the grill grid with a little oil.
On a flat surface stretch and shape the dough into a 12-inch round, pressing from the middle, forming the pizza as you go. Take care not to thin it out too much. Brush the top with oil, salt and pepper and toss on the grill, oil-side down, then allow to cook for a few minutes until the dough has started to bubble up. Remove from the grill and place grill side-up on a wooden board or pizza peel.
Spread the grilled side with the sauce, next add the shredded lettuce, then top the lettuce with cooked chorizo, a few tablespoons of cowboy caviar, followed by sliced peppers and jalapeño, shredded cheese, and finish with the sliced black olives.
Then carefully transfer the pizza back to the grill (I used a pizza stone in this step). Close the grill and allow to cook for a few minutes until the cheese has melted and there is some color on top.
Remove from the grill, and top with a cotija cheese crumble, then drizzle with the cilantro lime cream sauce, slice and serve. Enjoy!