How to make Beef American Chop Suey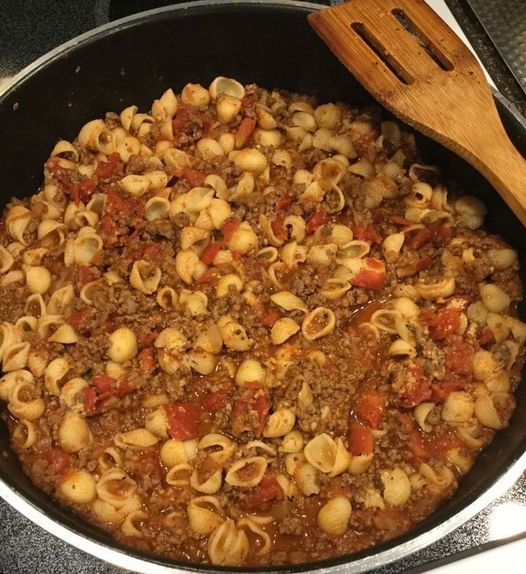 Ingredients:
1 pound ground beef
1 tablespoon olive oil
1 large onion chopped (white or yellow onion)
1 green pepper chopped
2 garlic cloves minced
1 teaspoon salt
½ teaspoon pepper
1 ½ teaspoons dried oregano
1 teaspoon dried basil
1 teaspoons chopped parsley
1 tablespoon Worcestershire sauce
2 14.5 ounce can diced tomatoes not drained
1 pound elbow macaroni
Instructions:
Bring a pot of water to a boil and prepare macaroni as directed on the label …watch your timer,.do not over cook, usually 7 minutes, drain. Meanwhile……..
Heat a large fry pan on medium, add olive oil and ground beef, breaking it up into smaller pieces as it cooks, 2-3 minutes (some pieces should still be pink.) drain off the grease.
Add chopped onions, green pepper and garlic to the meat, stirring every few minutes. Cook 5-6 minutes, or until vegetables are tender.
Add oregano, basil, parsley, salt and Worcestershire sauce. Saute for 2-3 minutes.
Add tomatoes with juice. Reduce heat, cover and simmer 10 minutes.
Add cooked and drained pasta and gently toss..
Cover and simmer 2-3 more minutes.
Ladle into warm bowls, and enjoy.
Preparation tips you can include in your blog post:
You can swap out the ground beef for ground turkey if desired.
You can use a basic italian seasoning blend in place of the dried oregano, basil and parsley.
The Worcestershire sauce adds a real nice, smoky depth in the background. You can add more or less to taste.
This recipe heats up well! You can also freeze it!