How to make Chicken Marsala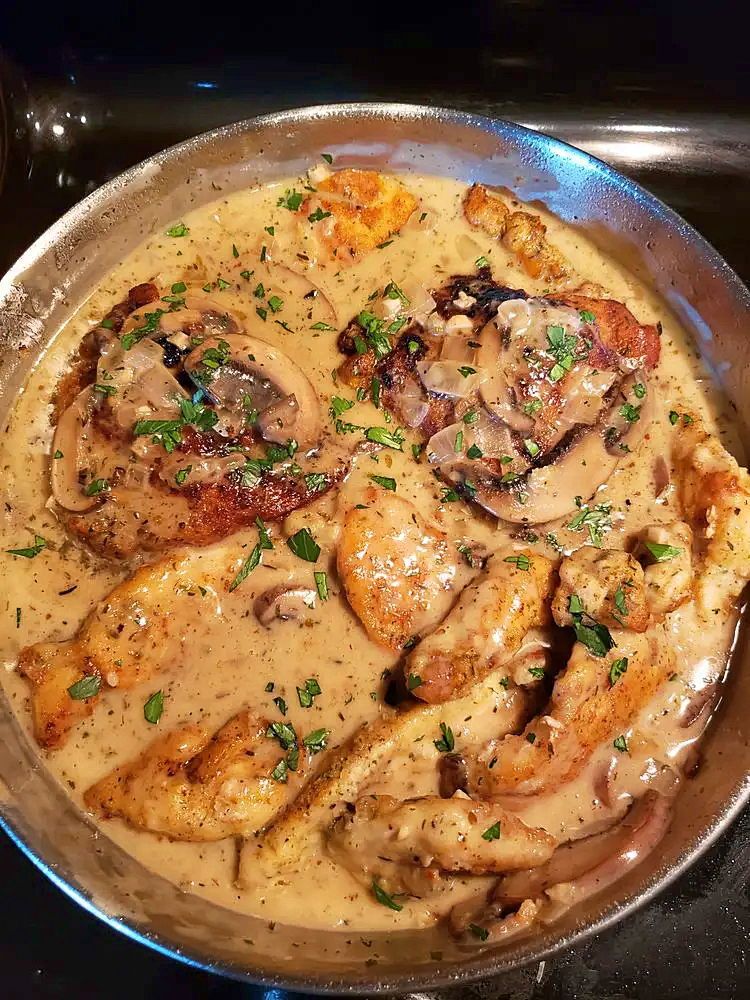 Ingredients:
300 g dry marsala wine
300 g unsalted chicken broth
2 300 g boneless skinless chicken breasts, butterflied and halved, pounded to an even thickness
Salt and freshly ground black pepper
40 g all-purpose flour
30 g unsalted butter
30 ml olive oil
227 g cremini mushrooms sliced
3 garlic cloves minced (1 Tbsp.)
1 tsp minced fresh thyme or scant 1/2 tsp dried
1 tsp minced fresh oregano or scant 1/2 tsp dried
1 1/2 tsp cornstarch whisked with 15 ml chicken broth in a small bowl until well combined
80 ml heavy cream
1 Tbsp. minced fresh parsley
Instructions:
In a medium saucepan, add the marsala wine and chicken broth. Heat over medium-high heat and bring to a boil. Reduce the heat to medium and let it gently boil until it's reduced to 1 cup, about 15 minutes.
While the marsala reduction is simmering, season both sides of the chicken with salt and pepper, then dredge each side in flour.
In a 12-inch skillet over medium-high heat, melt 1 tablespoon of butter with 1 tablespoon of olive oil.
Add the chicken pieces and cook until they're cooked through (165°F in the center), turning once halfway through, about 10-12 minutes.
Transfer the cooked chicken to a plate and tent with foil.
Reduce the heat to medium and melt the remaining 1 tablespoon of butter with 1 tablespoon of olive oil in the same skillet. Add the sliced mushrooms and sauté, tossing occasionally, until the mushrooms have shrunk and are golden brown, about 8 minutes. Add the minced garlic during the last 1 minute of sautéing.
Remove the skillet from heat and pour in the marsala reduction, thyme, and oregano. Return the skillet to heat and bring to a simmer, scraping up browned bits from the bottom of the pan.
Whisk 1 1/2 teaspoons of cornstarch with 1 tablespoon of chicken broth in a small bowl until well combined, then stir it into the simmering sauce until thickened.
Off heat, stir in the heavy cream and season the sauce with salt and pepper to taste. Return the chicken breasts to the pan and spoon the sauce over the top.
Sprinkle with minced fresh parsley and serve the Chicken Marsala immediately.
Enjoy!
Notes:
If you can't find marsala wine, you can substitute with a dry white wine or a sweet red wine.
To make the chicken breasts even in thickness, place them between two sheets of plastic wrap or parchment paper and pound them gently with a meat mallet or rolling pin.
Be careful not to overcrowd the mushrooms in the pan, as this can cause them to release moisture and steam instead of browning.
If the sauce is too thin, you can simmer it for a few more minutes to reduce and thicken it further.
Nutrition Information:
YIELD: 2 , SERVING SIZE: 1 chicken breast with sauce
Amount Per Serving: CALORIES: 597 | TOTAL FAT: 27g | SATURATED FAT: 11.4g | TRANS FAT: 0.5g | CHOLESTEROL: 169mg | SODIUM: 488mg | CARBOHYDRATES: 21.6g | FIBER: 1.6g | SUGAR: 4.7g | PROTEIN: 55.5g
Frequently Asked Questions:
Can I use a different type of wine instead of Marsala?
While Marsala wine is traditional for Chicken Marsala, you can substitute it with a dry sherry or Madeira wine for a similar flavor profile.
Can I substitute chicken breasts with another cut of chicken?
Yes, you can use other cuts of chicken like chicken thighs or chicken tenderloins in this recipe. Adjust the cooking time accordingly to ensure they are cooked through.
Can I make this recipe without alcohol?
If you prefer not to use alcohol, you can substitute the Marsala wine with grape juice or chicken broth. Keep in mind that the flavor may be slightly different.
How can I ensure my chicken breasts are cooked through without drying them out?
To prevent dry chicken, make sure to pound the chicken breasts to an even thickness before cooking. Additionally, using a meat thermometer can help you cook the chicken to the desired internal temperature of 165°F (74°C).
Can I use dried herbs instead of fresh herbs in this recipe?
Yes, you can use dried herbs if fresh herbs are not available. Keep in mind that dried herbs are more concentrated in flavor, so use about half the amount indicated for fresh herbs.
Can I make a gluten-free version of Chicken Marsala?
Yes, you can substitute all-purpose flour with a gluten-free flour blend or cornstarch for dredging the chicken. Make sure to check that the other ingredients, such as the broth and sauces, are also gluten-free.
What can I serve with Chicken Marsala as a side dish?
Chicken Marsala pairs well with various side dishes such as mashed potatoes, pasta, rice pilaf, roasted vegetables, or a fresh green salad. Consider your preferences and choose a side that complements the flavors of the dish.
Can I make this recipe ahead of time?
While the dish is best enjoyed immediately after cooking, you can make the sauce in advance and store it separately. When ready to serve, reheat the sauce and cook the chicken fresh for the best results.