Company Chicken Casserole
How to make Company Chicken Casserole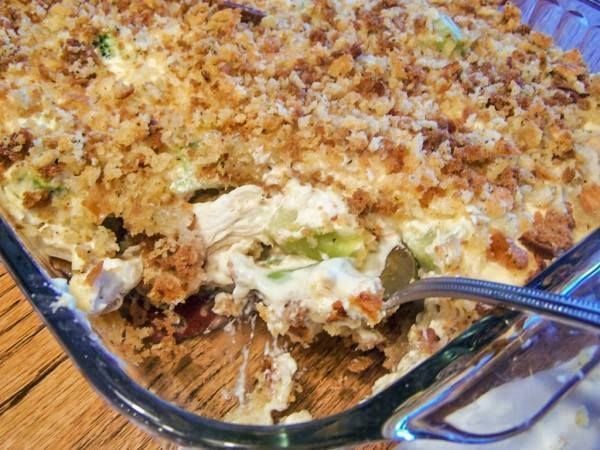 Ingredients
4 boneless, skinless Chicken breasts
1 cup chicken broth
2 garlic cloves, freshly minced
1 small onion, cut into wedges, use 2 wedges
4 cups Herb flavored Stuffing mix
4 tbsp butter
1 can cream of chicken soup
1 pint sour cream
8 ounces broccoli florets, frozen, but thawed
Instructions
In a large pan on the stove, pour in the chicken broth, minced garlic and onion.
Place the chicken on top of that mix and allow to come to a boil
Once it reaches the boiling point, reduce the heat to medium low and cover to cook for 20 minutes
Remove the chicken from the broth and shred each piece. Set to the side, save the broth for later
Melt the butter and pour it over the stuffing mix in a bowl. Mix together in a large saucepan
Mix the sour cream and saved chicken broth with a hand mixer, add in the cream of chicken soup
Place the stuffing mix at the bottom of a casserole dish and place the chicken on top of the stuffing
Then layer the broccoli on top of the chicken
Pour the combined soup mixture over the top and spread a little of the stuffing mix over the top
Bake in a preheated oven at 350* for 30 minutes
Enjoy!
Nutrition Information:
YIELD: 6 SERVING SIZE: 1
Amount Per Serving: CALORIES: 491 | TOTAL FAT: 31g | SATURATED FAT: 14g | TRANS FAT: 1g | UNSATURATED FAT: 12g | CHOLESTEROL: 135mg | SODIUM: 785mg | CARBOHYDRATES: 24g | FIBER: 6g | SUGAR: 5g | PROTEIN: 33g