How to make John Wayne Casserole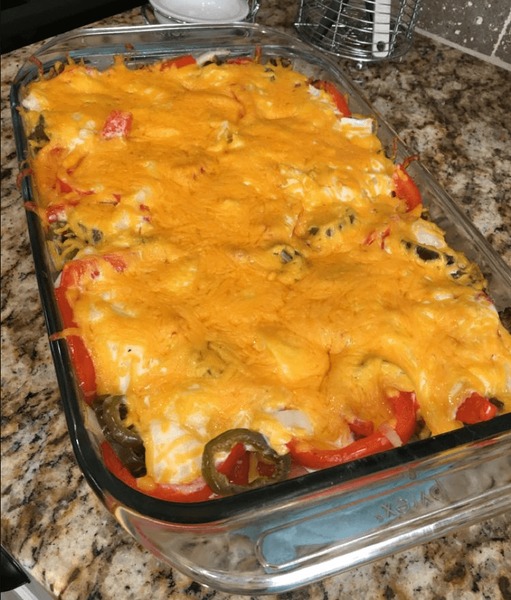 Ingredients:
2 lb Ground Beef 80/20 % Lean
1 Package 1 Oz Taco Seasoning Mix
¾ cup Water
½ cup Regular Sour Cream
½ cup Mayonnaise Light
1 cup Cheddar Cheese Shredded
1 Yellow Onion Peeled, Diced And Divided
2 cups Bisquick Biscuit Mix
1 cup Water
1 Green Bell Pepper Diced
2 Roma Tomatoes Diced
1 Can 4 Oz Green Chiles (Diced)
Instructions:
Preheat oven to 325 degrees.
Prep a 9 x 13 inch baking pan with non-stick cooking spray. Add ground beef to a skillet, cooking until the meat is no longer pink. Drain the fat from the skillet.
Stir in the seasoning packet and one cup of water. Simmer for 3-4 minutes.
Add sour cream, mayonnaise, one half cup of cheddar cheese, and one half of the diced onion in a medium bowl. Stir to mix. Set aside.
In a second medium bowl, add the two cups of Bisquick with one cup of water, mixing to make a dough.
Press all of the dough into the baking pan. Cover the bottom of the pan and up one half inch up the sides of the pan.
Add the rest of the bell pepper and onion to the skillet to saute. Layer the ground beef, tomatoes, green pepper, onions,and green chilies. Continue with the sour cream mixture and cheddar cheese.
Bake at 325 degrees for 30-35 minutes or until the edges are browned. Set aside to cool slightly to allow for the casserole to set.
Serve with sour cream and/or salsa.
Enjoy!