Thick And Chunky Vegetable Chowder
How to make Thick And Chunky Vegetable Chowder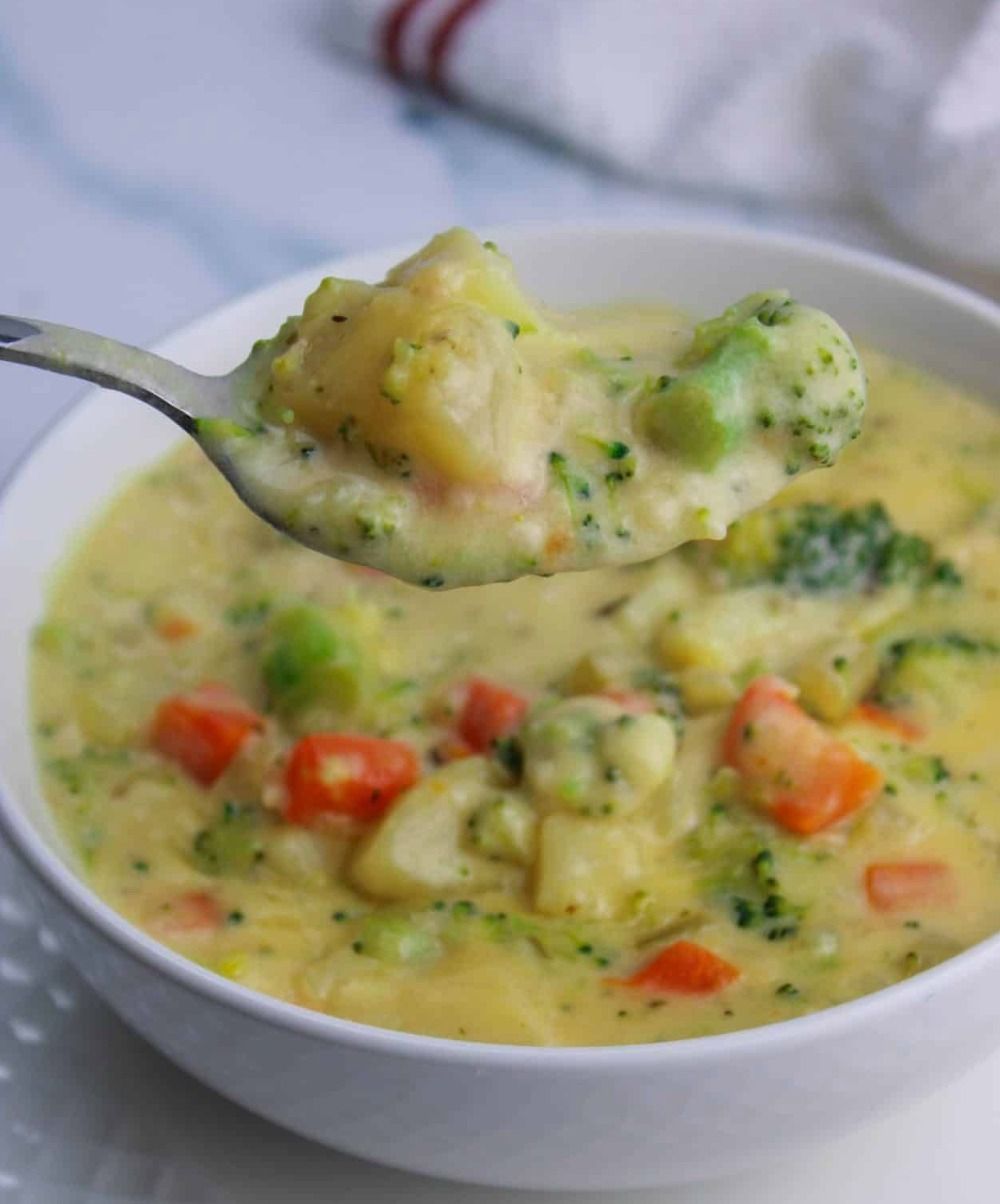 Ingredients
32 ounces vegetable broth
1 head of cauliflower, cut into florets
1 head of broccoli, cut into florets
3 medium russet potatotes, cut and diced
3 carrots, peeled and diced
3 stalks of celery, sliced
1 yellow onion, chopped
4 cloves garlic, minced
½ tbsp Italian seasoning
¼ tsp dried thyme
¼ tsp paprika
¼ tsp chili powder
5 tbsp butter, unsalted and divided
5 tbsp flour, all purpose
3 cups whole milk
½ cup heavy cream
2 cups Cheddar Cheese, shredded or grated
Instructions
Melt 1 tbsp butter in a large pan over medium heat, add the chopped onion and saute
Add in the celery and carrot at the same time as the onion. Cook for 5 to 7 minutes
Add in the minced garlic and saute for 1 minute, Add the Italian Seasoning, Thyme, Paprika and chili powder, and the salt and pepper
Pour in the vegetable broth and toss in the cubed potatoes
Bring to a boil, then reduce heat and simmer for 15 to 20 minutes, or until the potatoes are tender
Add in the broccoli and cauliflower florets and cook for another 5 to 8 minutes, just until they are still slightly crispy
In a medium saucepan over medium heat, melt the remaining 4 tbsp of butter and whisk in the flour.
Cook the roux until it becomes golden brown, then slowly whisk in the milk
Bring to a gentle boil and the reduce the heat and let it thicken, stirring frequently.
Stir in the heavy cream and season with the salt and pepper
Whisk this mixture into the soup
Add in the cheese and stir until the cheese is melted and smooth
Spoon into serving bowls
Enjoy!
Nutrition Information:
SERVING SIZE: 1
Amount Per Serving: CALORIES: 281 | TOTAL FAT: 18g | CHOLESTEROL: 58mg | SODIUM: 853mg | SUGAR: 6g | PROTEIN: 9g